Article by Nkosana Dlamini from Zimlive.com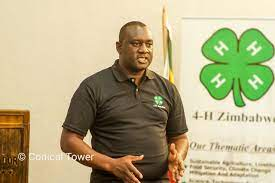 'We can't talk of sustainable national peace building without the security forces; that is why as an organisation, we are engaging the security forces in pushing for peace and political tolerance in our country.'
Peace-based NGO, 4-H Zimbabwe joins the National Peace and Reconciliation Commission this Wednesday to commemorate International Day of Peace with hopes to intensify its drive to rope in tertiary education students into its clean politics initiative.
Zimbabwe is commemorating International Day of Peace with the local theme "Promoting Inclusivity, Build Peace".
The world 2022 theme for the International Day of Peace is "End racism. Build peace."
The National Peace and Reconciliation Commission leads the commemorations in Gweru this Wednesday.
"We are engaging youths across all tertiary institutions which is colleges and universities, trying to preach and plant the gospel of tolerance because it's good to catch them young and try to instil the purpose of clean politics, the purpose of peace building, the purpose of tolerance," said 4-H Zimbabwe director John Muchenje.
"We are doing this in the full realisation of the background of student activism feeding into mainstream politics in the country.
"We are trying to engage and nature these youths at a tender age for them to understand and appreciate clean politics which is free from violence.
"As an organisation, today we are saying let's continue having a peaceful nation, a peaceful world."
4-H Zimbabwe, which has used sports in various parts of the country as a peace building vehicle, has recently engaged security establishments in its peace building drive.
Added Muchenje, "We also continue to applaud our security forces for the sterling job that they are doing in terms of maintaining peace and tolerance in our country.
"We can't talk of sustainable national peace building without the security forces; that is why as an organisation, we are engaging the security forces in pushing for peace and political tolerance in our country."
In a statement earlier, 4-H Zimbabwe said, "As we commemorate this special day of peace, we continue to share the message of peace globally. This is a day to reflect on the role that we play whether individually or collectively to shape our shared future that is more inclusive, just and tolerant towards one another.
"It has been a very delightful experience to be one of the drivers of peace in our country through our peace engagements in the form of dialogues and sports. It is our hope to achieve a future that is free from conflict and violence."