4-H Zimbabwe Foundation held a community local youth coaches' capability building at Maramba High School in Uzumba Maramba Pfungwe (UMP) rural district in Mashonaland East Province district this Saturday.
The sporting capacity building session was facilitated by CAF license C holder, Coach Tafadzwa Gorejena and attended by 17 wards youth representatives selected in conjunction with the Ministry of Youth, Sports, Arts and Recreation which have the Memorandum of Understanding with 4-H Zimbabwe aimed at sport development in Zimbabwe.
The Guest of Honor at the training session, District Development Officer Mr Joseph Kativhu from the Ministry of Youth, Sport, Art and Recreation applauded 4-H Zimbabwe and FIFA Foundation for the noble idea on engaging the youth in marginalized communities through football and inclusion of women in football issues. "We commend the work done by 4-H Zimbabwe and its partners in using sport as a tool to engage young people especially inclusion of young women. On behalf of the Ministry of Youth, Sports, Arts and Recreation we are very grateful on this intervention to which is going to uplift the youth in aspects of life, peace building and social cohesion especially after the country held harmonised elections in August this year.
Speaking at the same event, the Executive Director for 4-H Zimbabwe Foundation Mr John Muchenje unpacked the role of sport in development. He highlighted on the need to have basic understanding of soccer hence the organisation has engaged the services of a qualified CAF C holder as a technical consultant to capacitate the youthful community coaches on basic football skills. In order for us to use soccer as a tool, we need to have basic appreciation of the game. He further expressed the effectiveness of sport as a tool to educate, change lives and unite diverse youth groups especially amongst the youth from various political parties in just ended harmonized elections in Zimbabwe. Through the support from FIFA Foundation, we are going to distribute soccer balls and bips to the wards to enhance access to sporting equipment.
Miss Esther T. Mudoka (24) from Nyamara Ward 12, appreciated the organization's efforts to use sport as a communication tool. "Sport has really helped us as the youth because it gives us a form of entertainment, fitness and this it deters us from using drugs and other substances. Sport always helps in being fit and healthy. She went to encourage the organisation to continue with such programs countrywide. She expressed that as young women this will really assist them as they will find means to be occupied so they desist from vile activities like prostitution. She explored the organisation's effort and emphasized on the need for additional sporting equipment such soccer kits and additional balls.
Milton Dzemwa (32) from Ward 3 thanked the organization for the training on basic coaching principles and sport for development. He highlighted that they learnt a lot about sports including how sports can be used for economic development, how sports bring together members of the community, how sports can be used to eradicate drug and substance abuse, how sport can occupy the unemployed youth and how sporting activities can even eradicate gender based violence. He went on to commend the organization's work and for extending the olive branch to the youth in Uzumba Maramba Pfungwe rural district especially on the provision of sporting equipment; the t-shirts, soccer balls and sporting bips to their local community teams.
This program is being implemented in UMP and Mutoko Rural Districts respectively and the organisation will continue to engage our partners to spread it to all rural districts in Zimbabwe.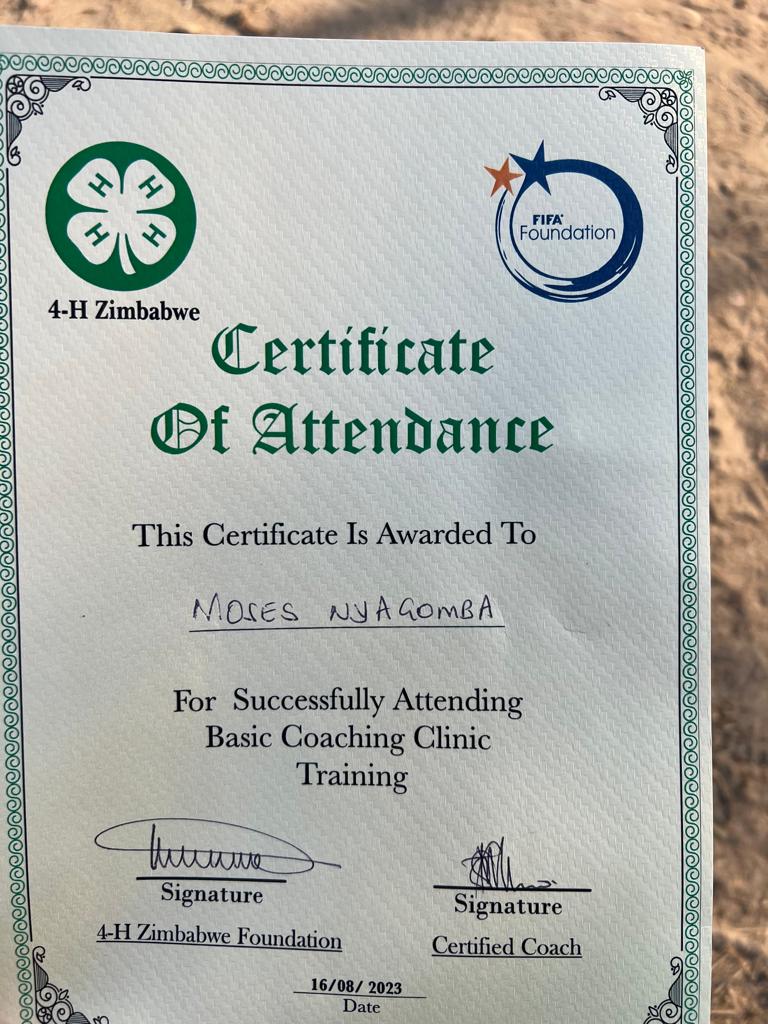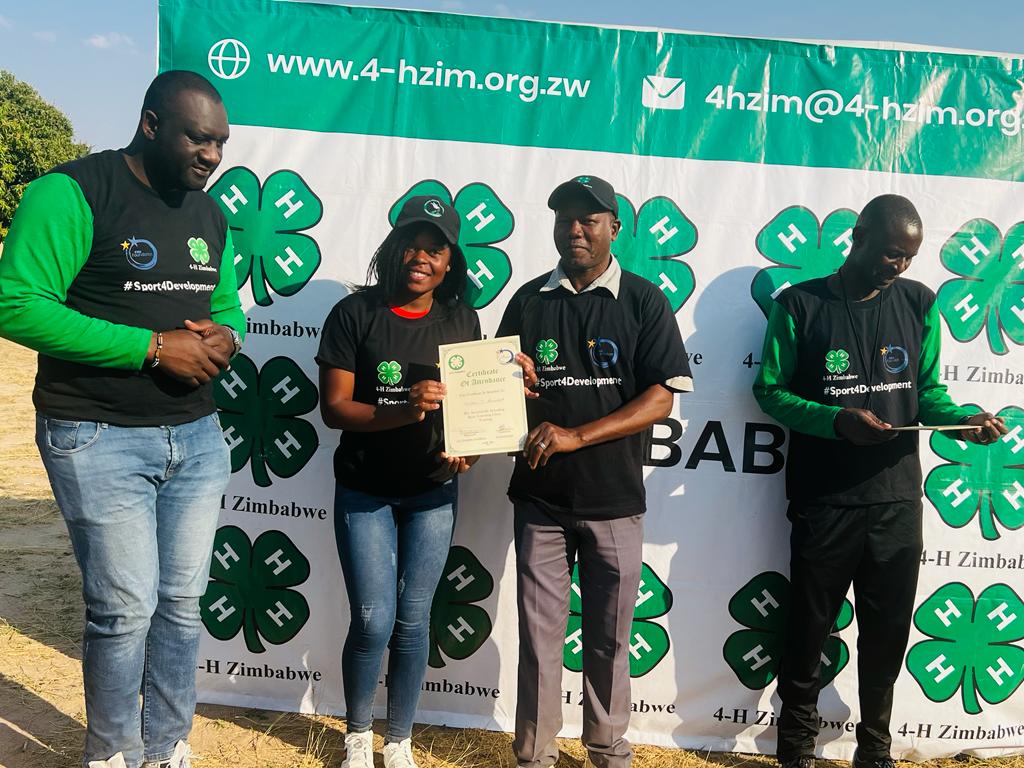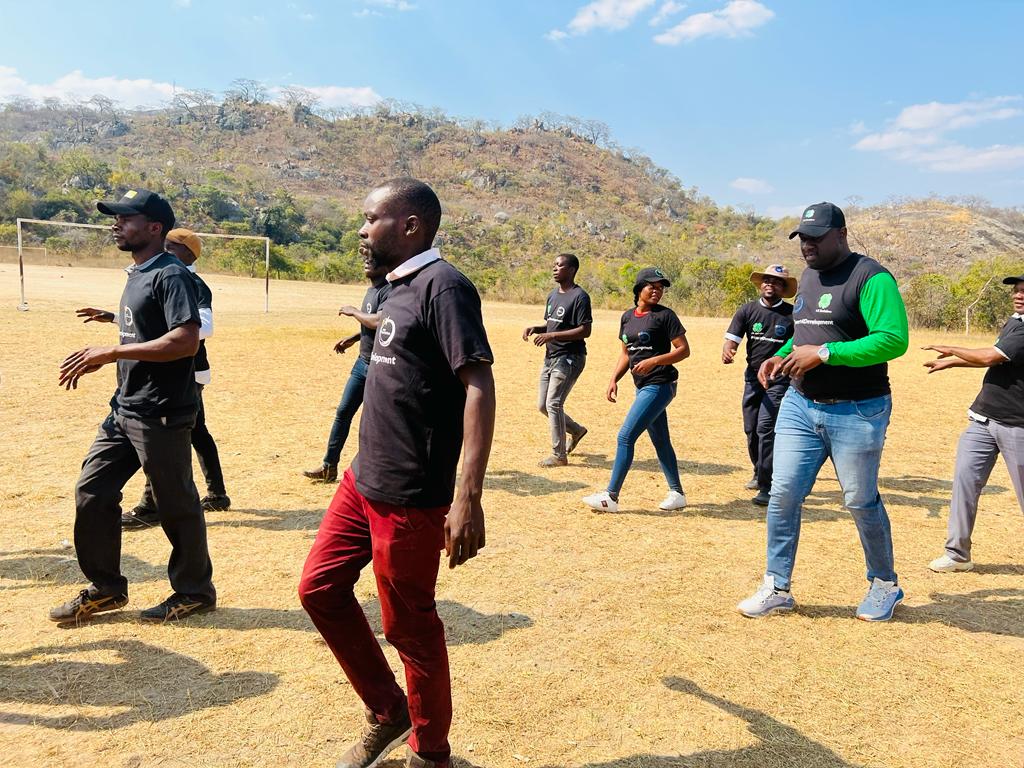 The community coaches were given certificates at the end of the training and were each given balls and kits to go and form teams in their respective wards.
Story by: Michelle Ncube